Tax Preparation Services
As a small business owner, DIY tax preparation, for both business and personal, can have many pitfalls. You may be unaware and overlook deductions and credits. Even the most commonly used computer software or other accounting platforms are no substitute for the assistance of a seasoned local tax preparer.
We are a Tax Professionals firm located in Oklahoma City and have experience preparing tax returns every year for hundreds of local businesses. Working with a local CPA firm throughout the year, with monthly accounting, lays the foundation for successful tax preparation.
Personal Tax Preparation for Our Small Business Owners
In addition to their business accounting, we help our small business owning clients with their personal taxes. This creates a consistent relationship, with one point of contact streamlining the tax preparation process.
Here are some common tax-cutting items for our small business owners that we consider in preparing for their personal returns.
Small Businesses Tax Preparation Checklist:
Best filing status
Home office deduction
SIMPLE plan
SEP
First year expensing of business equipment
Bonus depreciation
Year-end bonuses
Bad debt write-off
Other business tax credits
Avoid Potential Overpayment When You File Your Taxes
Enlisting a qualified small business Tax Prod for tax preparation, reduces the opportunities for filing mistakes and/or missed deductions. Unless you are up to date with the ever changing tax laws, deductions and credits can be easily missed.
Contact our tax preparation firm by form or call us at 214-793-1198 to learn more about our services.
Take the stress out of tax time.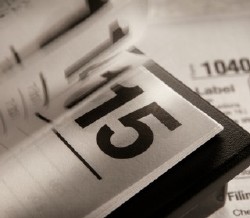 SIMC LLC Accounting and Tax Services has the expertise to provide you with the services that you need. Dedicated to keeping our tax preparation skills honed with continuing education courses throughout the year, we are highly qualified to prepare tax returns for all fifty states. Our goal is to make the preparation process as easy as possible for you and minimize your tax liability with careful planning. Your tax preparation interview can be conducted either in person, by mail, or e-mail – whichever is most convenient for you. Whatever your circumstances may be, we are here to give you the best advice to help you get through life's challenges. Whether you need current year returns prepared or need to plan for retirement or your child's education, our professional team can assist you with all of your needs. This office provides many services, including the following:
Individual Tax Preparation
Business Tax Return Preparation
Gift & Estate Tax Return Preparation
Partnership & Corporate Tax Preparation
Estate and Succession Planning
Tax & Education Planning
Out-of-State Returns
Business Start-Ups
Thank you for allowing us to be of service.